Accessories
Backyard Accessories
If you are looking for a particular type of outdoor accessory, use the following links to quickly get to the pages you are looking for. We have large offer of outdoor grills, pottery and backyard umbrellas.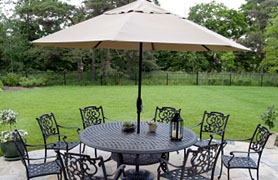 Treasure Garden is the largest shade products manufacturer in the world.
Their operation has grown over the past two decades from a small operation in Southern California in 1984, to what it is today. Innovation, quality, and value were the principles with which the company was started back then. These attributes laid the groundwork for the successful formation of Treasure Garden.
We carry Traeger Grills in our store at this time. In our recent past, we have created and installed custom outdoor kitchens using a variety of grills from different manufacturers. We have since chosen the Traeger brand as our only brand. This is due in part to the Traeger reputation for quality and performance.
See our pottery page for pictures of items available at our retail store.